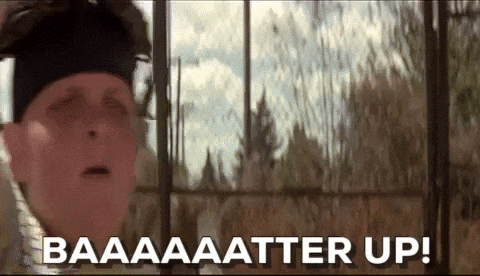 I know the season just ended but I recently found this young man while watching another young prospects offensive highlights. He was behind the plate for part of the video and popped up and made a throw to second and all of my attention was redirected to finding this kid. I went on a wild goose chase to find him, first deciphering the uniform he was wearing under his gear and then eventually narrowing him down from a list of Padres prospects. I had never heard of this kid and just wanted to watch some highlights of another player, but Campusano grabbed my attention and showed me he's a special player. This kid has that "IT factor" that you look for in prospects.
He's only 20 years old and continues to get better the more he develops in the low grade farm system. He's not a top prospect in baseball, or at his position, hell he's not even a top prospect for his own organization. He sits outside of the MLB's top 10 catching prospects of 2018, and the Padres list him as their 24th overall prospect and he sits behind Francisco Mejia (who won't be a major league catcher) as their top catching prospect.
OFFENSE
His early tape showed me a player who banked on his size and his talent in his youth. But now that he's a smaller fish in a big pond, he's getting back to his fundamentals. The giant leg kick is gone and he's dropped his hand position to get him to the ball faster, but he could benefit from rotating those hands back a bit to get the bat there even sooner. He cocks that bat back a bit and struggles with the high heat. A lot of guys don't like to do it because of comfortability but it makes the game so much easier when a player is willing to do it. The other adjustments he's made show me a player who's listening and learning to improve his game.
DEFENSE
Now I'm no catching wizard behind the plate, in fact, I couldn't catch because I would blink every time the batter would move and I'd lose the ball. BUT, I know an absolute star behind the plate when I see one. His pop time is exceptionally good for his age and he's got an above average arm. The most exciting part about this kid? He's still so young that he's still got a little baby fat to lose, but more importantly, he seems to thoroughly enjoy playing the game behind the plate. He takes passion in his game and that's something that is few and far between at the catcher position.
Luis Campusano is the leagues next Salvador Perez with a higher offensive ceiling. He's going to be an above average defensive player within the league while being a top 5 offensive catcher in the league. His defense can be as good as he wants it to be, and so far, it has done nothing but improve which tells me it's going to be one of the leagues best when he gets to the show.
I beg of you San Diego, please know what you have with this kid and don't ruin it. He has so much potential and will be 10 times the player of Francisco Mejia (who will bust like AD at a strip club).
So, what's my final verdict?
FUTURE STAR
This kid will be one of, if not the best catcher in baseball within the next 5-7 years. Campusano is flying under the national radars of scouts, even the radars of Padres scouts, but I promise you, this kid is going to flourish at the catchers position.