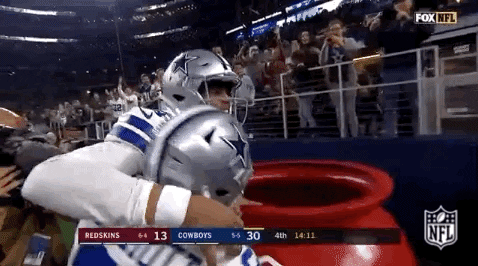 As I alluded to in a previous post, this Cowboy team continues to tug on my heart strings. And despite my predicting the last 3 games correctly with a pessimistic outlook for the remainder of the season, the Cowboys still have me hook, line, and sinker. In that post, I claimed Dallas would win 3 in a row(which they have), lose their next 3, and finish the season with a win against the Giants to finish 8-8.
I would like to go on record saying that this defense is WAY too good to allow that to happen. The offense has finally re-discovered its identity and been excellent the last 3 weeks and I will admit, a percentage of that is owed to Cooper being on the field. He forces the opponent to unload the box which opens up the running lanes for Zeke. He's still a bum until he signs an extension but he's an incredibly fast bum with some of the nicest footwork I've ever seen from a receiver.
I no longer believe Dallas will lose their next 3 games. I see this team winning 3 of their final 4, if not all 4 games to win out. They're a hot bunch with a lot of momentum on their side. So let's get an updated prediction on the remainder of the regular season for Big D.
Philly
The Eagles come in to Dallas on Sunday afternoon for a game with big division implications. With Dallas having extra days to prepare and Philly coming off a scratch and claw win over a beat up Redskins team, I could see Dallas winning this game by a 2 possession scoreline. BUT, I've got a gut feeling that they lose this game.
@Indy
Quenton Nelson is already a top 5 offensive guard in the league, Marlon Mack is a star in the making, and Andrew Luck NEEDS to be in the MVP talks. This Colts team will be fighting for its playoff lives just like Dallas, but I see Dallas' defense standing on their heads and the offense controlling possession to keep Luck on the sideline. Huge win for Dallas on the road in Indy.
Tampa
The Bucs are not very good. And yet they just beat the Panthers. But I'm going to chalk that one up to a rivalry game meaning more to the lower record than the higher record. Avoid the deep ball to Desean Jackson and maintain Mike Evans and we'll be fine. Dallas should be able to control this game from start to finish and might even be booking a trip to the playoffs with this win.
@New York
First off, fuck the Giants. But those little shits are going to come out firing on all cylinders trying to play spoiler against their rival. This game will be close just like the Cowboys and Giants games always are, but the Cowboy pass rush combined with the linebackers being able to limit Barkley in the short passing game make all of the difference here. Dallas beats the Giants to finish 10-6, winning the NFC East.
So while writing this, I realized just how much this team has sucked me back in. I'm fully on board with the idea that they could potentially win out and finish 11-5. But, if for whatever reason Dallas does fall off the planet, you'll find me like this.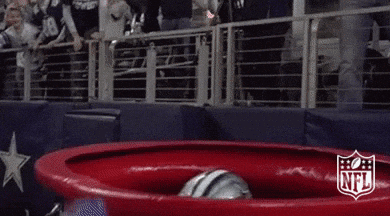 Actually, I'll just pretend this post never happened considering my first prediction will have then been right. The perks of being the writer.