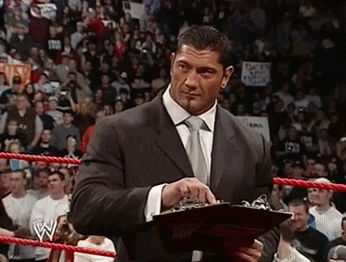 I'll take yes for 500 please Alex.
I know, I know, a wrestling post. I never make these. Except when I'm intrigued in the product. But after Raw last night, this is a must.
Since Smackdown's 1,000th episode and the reunion of Evolution on that night, rumblings of Batista and Trips meeting at the grandest stage of all began. Batista took a playful shot at Trips about having never beat him, but last night, the match was damn near booked a month and a half from Mania.
Raw had a celebration for the birthday of the now 70 year old Ric Flair, a former mentor of both Triple H and Batista. Last night, Flair was made nothing more than an example of. Batista pulled a camera man to Flair's locker room, a struggle was heard from outside the room before Flair was dragged out of the room by his collar. Yes, I know it's scripted assholes… but, this is compelling stuff. Which is something, I haven't been able to say about the main roster in a long time.
He dropped Flair, looked at the camera and said, "Hunter, do I have your attention now?" in an arrogant and badass way that would have made 2010 Batista proud.
This is awesome for multiple reasons:
Everybody loves a little nostalgia come Wrestlemania. But, it gets even better when the nostalgia can still put on a show and it doesn't put you to sleep. And these two will put on a show.
The cocky, badass heel persona is the best Batista. It doesn't feel forced and it allows Batista to show that he actually has personality.
A motivated babyface Triple H is the best "good guy" Trips can portray. That motivated babyface comes out when his family or people closest to him are impacted in a story line. Other than Shawn Michaels and his wife, Flair is the closest person on screen to Trips. Prime example of the motivated Triple H character: Wrestlemania 25 against Orton when the story revolved around Orton attacking Triple H's entire family.
They could go multiple directions with this. Batista is back for revenge because he feels Triple H held him back behind the scenes or maybe he just wants to prove once and for all that he was the best thing to come out of Evolution.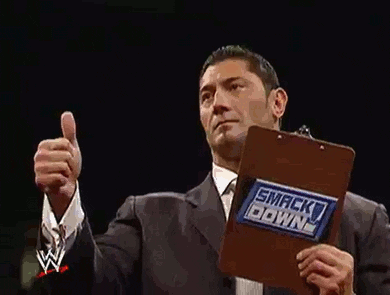 I think they could even take this a step further. Have Batista show up at an NXT house show or an NXT taping and just obliterate anyone in sight… developing talent, William Regal, etc. Everyone knows that NXT is Triple H's baby. Play into that and make the story line even deeper for Triple H getting his revenge. That builds up Batista as the unstoppable monster heel, and Triple H becomes the even more motivated babyface.
The culmination at Mania could be legitimately epic as long as they continue this the right way. Don't force it down our throats with weekly in-ring promos between the two. Make it seem as real as possible. Build the anticipation of the clash with "true" aggression. And if any two can pull off making their aggression look real, it's these two. Their character work does so, and their in-ring work does so even more. Last night, Batista kick-started the feud with that aggression and only one statement made millions of people excited for the future of the feud.
This match will be absolutely brilliant. Their in-ring styles mesh so well and they're two of the best of the generation at their particular style (Trips the ring general and Batista, the powerhouse brawler). This match will be a ruthless aggression era classic, with great story telling and some good old fashioned announce table spots. Get excited wrestling fans… Wrestlemania is shaping up to be a special one.
P.S.- What the hell was that shiny blue nose ring Batista? That is the only complaint I have about this segment. I was intrigued in the entire segment and you sucked me right into the story you were telling, but that damn nose ring was staring me in the face like a zit on prom night.