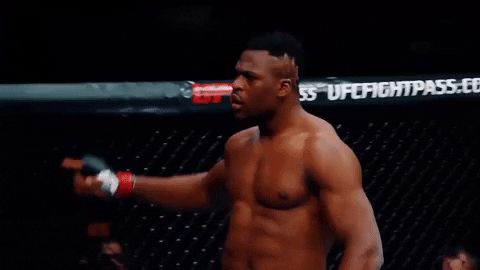 Francis Ngannou is an absolute monster. He may be the scariest dude walking the planet at the moment. But, he's received a mixed reaction from a lot of fans because of his giant holes in his grappling game and because of back-to-back awful performances against Stipe for the strap and Derrick Lewis in the worst UFC fight of all time. BUT today, I'm going to talk about the wins that he has had… because his resume is one of the most impressive in Heavyweight history.
Three names jump out immediately. A first round demolishing of Andrei Arlovski, a future UFC Hall of Famer and a top 10 UFC Heavyweight of all time. He followed that up with the Uppercut heard around the world against Alistair Overeem. Granted we're not talking the same Overeem that was juiced to the gills and almost killed Brock Lesnar… But, we are talking about the most technically gifted stand up fighter in Heavyweight history, whom Ngannou put on Mars with one punch. The third name that jumps out is the most recent and the biggest of the three, Cain Velasquez. Who many, including myself, consider to be the GREATEST heavyweight of all time and had only been knocked out one time in his career and it was his first showdown with Junior Dos Santos at a time when JDS was starching everything in sight. And Francis put Cain out in under 30 seconds. Something has to be said about a guy who's knocked out three fighters in the top ten Heavyweights of ALL TIME.
I get it. His grappling is terrible and if he gets grabbed by an experienced wrestler, he's toast (Please work on your takedown defense Francis. We don't need you taking guys down or submitting them, just not looking like the worst grappler in the world). With that said, you've still got to get past those nuclear bombs that he throws at you in order to grab him. He is more powerful than any fighter to ever grace the Octagon. Let's not forget that Ngannou only fought for a few years before his first UFC fight. His experience level is nowhere near the level of the guys that he has fought and for the most part, defeated but he is always just one punch away from winning any fight. I think it's time that we realize that a Heavyweight Title fight could once again be on the horizon for Ngannou, and winning the belt puts him in very special waters as one of the best Heavyweight's of all time.