This weekend's UFC card is another stacked one. Because of how stacked it is, I'm going to give a little prediction of the bigger fights on the card (or at least the ones that I know the most about).
Undercard
Diego Sanchez vs Mickey Gall
This fight feels like a passing of the torch of sorts because these fighters are the same stylistically, only a generation apart. Diego is a DINOSAUR of the fight game nearing the age of 40 but he is still an absolute SAVAGE inside of the Octagon. Mickey Gall is young and hungry and has an exceptionally good ground game, especially when he gets to your back, which he ALWAYS manages to do. Diego has never been submitted and Mickey has only won by submission. That changes on Saturday night.
Prediction: Mickey Gall defeats Diego Sanchez via Unanimous Decision
Zabit Magomedsharipov vs Jeremy Stephens
The winner of this fight jumps right into the conversation of next Title contenders at 145 pounds. Zabit has become an MMA sensation because of his scary grappling game. But his lack of experience against "good opponents" could be his downfall against Stephens, who enters the cage Saturday night for his 30th UFC fight, second on the all-time list. He has faced the "who's who" at Featherweight and possesses power that few have ever had at this light of a weight class. That power and experience fuel Stephens to victory over the up and coming Zabit.
Prediction: Jeremy Stephens defeats Zabit Magomedsharipov via 2nd Round KO
Main Card
Cody Garbrandt vs Pedro Munhoz
Pedro Munhoz is very, very talented but has struggled to win in the bigger fights of his career. Decision losses to the likes of John Dodson, Jimmie Rivera, and Raphael Assuncao have left him short in the biggest fights of his career. Munhoz is known for having a chin, but Garbrandt's superior boxing and power win him this fight in his return for redemption on his road back to the Bantamweight Title.
Prediction: Cody Garbrandt defeats Pedro Munhoz via 1st Round KO
Tecia Torres vs Weili Zhang
All I really know about this fight is that Zhang is a finishing machine. Nearly every fight she is in, ends in her finishing the fight. I see this going the same way against the "Tiny Tornado." Tecia has lost two in a row and needs to win this fight to stay in the title picture, but I think Zhang continues her ascent up the Strawweight ladder.
Prediction: Weili Zhang defeats Tecia Torres via Unanimous Decision
Robbie Lawler vs Ben Askren
The wait is over. The UFC debut that fans thought they would never see is finally upon us. Ben Askren, one of the best fighters to never fight in the UFC makes his long awaited debut on Saturday night. And the UFC were not kind about his first opponent. Robbie Lawler is one of the best and toughest Welterweight's to ever step foot in the Octagon. This fight has a lot of hype surrounding it but it raises some questions for me. Will Ben Askren's past achievements translate to the UFC? Will the head shots from the previous wars Lawler has been in show in this fight? I like Askren to use his wrestling to get the job done on the ground.
Prediction: Ben Askren defeats Robbie Lawler via 2nd Round TKO
Tyron Woodley vs Kamaru Usman (UFC Welterweight Championship)
The Greatest Welterweight of all time (View here) is back to defend his Welterweight strap against an absolute assassin in Kamaru Usman. The fight has me very excited. The sweaty palms and butterflies in the stomach feeling. The "Nigerian Nightmare" is a carbon copy of what makes Tyron Woodley so great, only in a poor mans version. Usman is fast, powerful and has a tremendous wrestling background as a former Division II National Champion in college. But, Woodley is faster, stronger, and his tremendous wrestling background finds him a multiple time Division I All-American at the University of Missouri. Oh, and Woodley has the ability to knockout any fighter in the division with one punch. I think Usman is tremendous and could shock the world…  but, I'm taking the "Chosen One" to continue his reign of dominance.
Prediction: Tyron Woodley defeats Kamaru Usman via Unanimous Decision to retain the UFC Welterweight Championship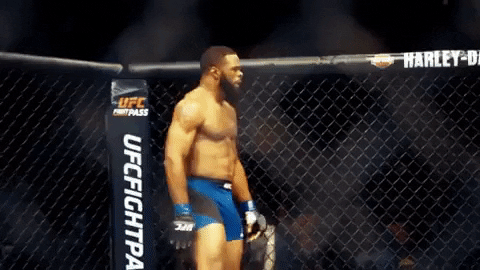 Jon Jones vs Anthony Smith (UFC Light Heavyweight Championship) 
There are levels in the world. Whether it be financial, educational, workplace, or in this case… Mixed Martial Arts. Jon Jones is on a level that few, if any have reached. Anthony Smith is on a level that is three or four levels below Jon Jones. Smith talked a little smack, works for the UFC on the side as an analyst, and beat a couple of dinosaurs and it got him a title shot. But all that title shot is going to get him besides a nice pay day, is the shit beat out of him. Jon is younger, faster, stronger, and most importantly… more skilled than Smith, in every aspect of the game. If you're expecting knock down drag out wars from this card, don't look at this fight. It's going to be one sided and a dominating performance from the Pound 4 Pound G.O.A.T.
Prediction: Jon Jones defeats Anthony Smith via 3rd Round Submission to retain the UFC Light Heavyweight Championship
P.S.- I would literally bet the farm on Jon Jones defeating Anthony Smith on Saturday night.
P.PS.- I really hope there's no last minute bugaboos that ruin the card. I'm looking at you Jones.