If you bet the underdogs on this card (besides the main event), you had yourself a nice night of degenerative activity.
I, on the other hand… did not.
Undercard
Diego Sanchez defeated Mickey Gall via 2nd round TKO
I know nothing about making fight predictions part 1.
The nightmare lives on. Truly an all-time great in the MMA world, Diego Sanchez went in the cage on Saturday to show the world that he's not done yet… and that there would be no "passing of the torch" like my dumbass thought. Mickey Gall was outclassed and Diego exploited the holes Gall still has in his young skill set… particularly his stand up. Mickey has a lot of room to improve and will come back stronger. As for Diego, a huge win kick starts, what in his mind, could be one last run at the top level in MMA.
Zabit Magomedsharipov defeated Jeremy Stephens via Unanimous Decision
I know nothing about making fight predictions part 2.
Zabit is so god damn good. I never thought he was going to be able to out-strike Stephens… and yet he did. A lot of that is because of his length. He's so much longer than the other fighters at 145 pounds. Hell, he'd be longer than the guys at 155 and even some at 170. Stephens just couldn't close the distance on Zabit to be able to land strikes and execute the best aspects of his game. I don't think Jeremy was on top of his game Saturday, but he without question was outclassed by Zabit. Magomedsharipov is an absolute nightmare for everyone at 145 pounds. The only one with the length and style to match him is Max Holloway. Who happens to be the champ. The future is bright for Zabit, even though he does seem like a bit of an asshole.
Main Card
Pedro Munhoz defeated Cody Garbrandt via 1st round TKO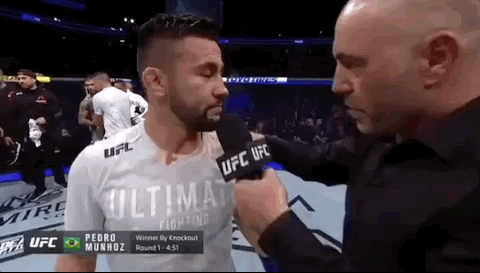 I know nothing about making fight predictions part 3.
Another one bites the dust. I thought this one was locked. I thought Cody would come out motivated as could be and use his superior striking to outclass Munhoz. I thought wrong. Instead, the fight game took over. Garbrandt and Munhoz started to exchange and rather than Garbrandt taking a step back and resetting the situation… Garbrandt bit down on his mouthpiece and swung away. When you bite down on your mouthpiece and exchange bombs, one of two things happen… either you get the knock out victory, or you get knocked out. For Cody, number two happened on Saturday. Huge win for Munhoz, but I feel REALLY bad for the guy who draws Cody Garbrandt their next fight.
Weili Zhang defeated Tecia Torres via Unanimous Decision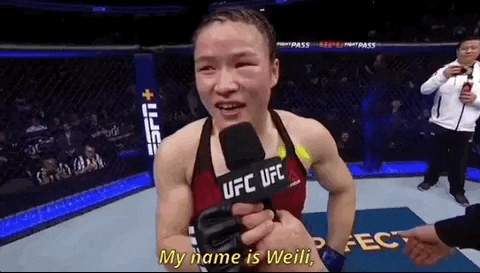 I am a fight predicting genius part 1.
HA. I hit the nail right on the head with this one. This may have been the most back and forth fight of the night… But, for the most part, Weili was dominant in her performance over the Tiny Tornado. Particularly with her grappling and ground and pound when she got Tecia on the canvas. Tecia proved she is still an elite level fighter in the women's strawweight division and Zhang proved that she's ready to throw her name right into that conversation. I'd love to see Zhang get another top ranked opponent in her next fight to continue to climb the ranks. Maybe Claudia Gadelha? That'd be a hell of a fight.
Ben Askren defeated Robbie Lawler via 1st round Bulldog Choke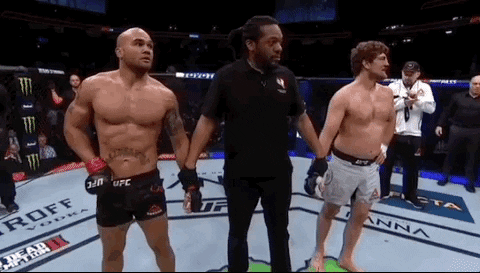 I am a fight predicting genius part 2.
This was such an exciting couple of minutes. Askren was welcomed to the UFC with open arms and a modified slam on the top of his head from Robbie Lawler. I thought the fight was over after that slam and the ground and pound that followed. But, credit to Herb Dean for allowing Askren the time to recover and survive the onslaught. Because, then he finally got back to his feet and was able to grab hold of Robbie which led to the end of the fight soon after. That was when the controversy stepped in. Askren locked in a bulldog choke from a side saddle on the back. Robbie was trying to defend the choke before his hand fell to the canvas limp. Herb stepped in, moved Robbie's hand thinking he was out cold and called the fight. What he didn't see was Robbie apparently give the thumbs up to Herb right before he called it. What Herb did see was Robbie's glove smack the canvas in a way only an unconscious fighter's would. I think it's controversial to say the least, and if Robbie wasn't out, it sucks. But Robbie was professional afterward making sure Herb knew he was a great ref and that "shit happens." Hats off to Robbie for that, and for how great he looked in that fight before the closing 30 seconds because I was genuinely concerned for his health after all the damage he's taken over the years. As for Askren, I am not sold on your talent level in the UFC. But, I am sold on the heart that you possess for surviving the initial onslaught from Robbie to go on to win the fight, but your stand up HAS to improve.
Kamaru Usman defeated Tyron Woodley via Unanimous Decision to win Welterweight Championship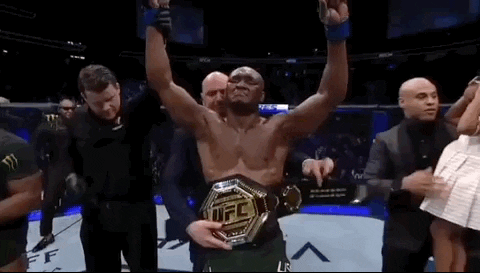 I know nothing about making fight predictions part 4.
My jaw was on the ground for the entire 25 minutes of this fight. I never in a million years thought that Woodley would show up and just get absolutely worked. Usman barely even got touched. It was one of the best performances I've seen in a Championship fight in my time as a fan. It might be the best considering how dominant Woodley had been as champion. I will say, Tyron didn't look like he was in the fight mentally from start to finish. Even during his walk out, he just looked like his mind wasn't there. And Usman was not the guy to be in that state against. Usman out-struck Tyron, he out-grappled Tyron, and most of all, he wanted it more than Tyron. My hat is off to Kamaru Usman after a dominating performance over the best Welterweight of all time. The Nigerian Nightmare is just that, an absolute nightmare. Now, I'm excited to see him knock the block off of Colby Covington.
Jon Jones defeated Anthony Smith via Unanimous Decision to retain Light Heavyweight Championship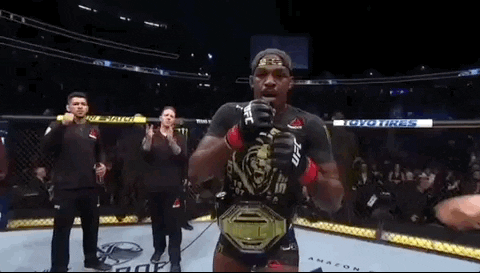 I am a fight predicting genius part 3.
This was a classic Jon Jones fight. He took the first two minutes or so to feel out his opponent and then he went to work. He is the pound for pound G.O.A.T. There is not even a question. I don't think there were questions before this fight, but now… there definitely can't be. Controversy exists in this fight because of an illegal strike in the 4th round that cost Jon Jones two full points, but if you're a fan that thinks that strike is the reason Jon won… you're a fucking moron. It was domination and Jon could have potentially had two 10-8 rounds if not for the illegal blow that made the 4th round 9-8 Smith. That illegal blow is a complicated one because the Athletic Commission's can't agree on rules and have to have their own individual set of rules. There's no universal rules in the UFC. In other states, that's not an illegal blow because Smith's palm was off the ground and his knee was just off the ground, which pretty much means he was standing on two feet. But because Nevada hasn't adopted those new rules that so many other states have, he was still viewed as a grounded opponent because his finger tips were still on the ground. Which means knees and kicks to the head are no bueno.  Credit to Anthony Smith though. He could have told Herb Dean he was hurt and couldn't continue and left Vegas as Light Heavyweight Champion after a DQ win. But that wasn't how he wanted to win the Championship. He wanted to earn the title and prove to people he deserved to get his ass kicked by Jon Jones, and boy did he ever. Jon "Bones" Jones takes his rightful spot atop the Pound for Pound rankings and has a potential fight with Thiago Santos on the horizon. God, am I happy to have Jon Jones back on a regular fight schedule with so many dream matchups on tap. Welcome back Jon.
P.S.- Imagine thinking a guy that won a fight 48-44 on the score cards, only won the fight because of an illegal strike in the 4th round… an illegal strike that took off TWO POINTS. Take out that illegal strike and I think Jones gets another 10-8 in the 4th and wins the fight 50-43 on the sheets.
I mean 3-4 in my predictions isn't too bad right? Especially on a night that the underdogs reigned supreme over the betting favorites. All in all, it was a good card and it sets up even more excitement for the future, especially at 170 pounds.