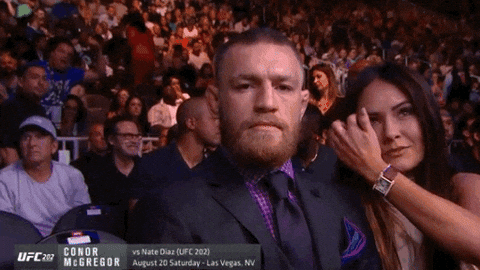 The "Notorious" one took to Twitter in the wee hours of the morning to announce to the world that he was retiring from Mixed Martial Arts. And I'm here to tell you that this time… I think it's 100% legitimate. I say this time, because Conor has flirted with the idea of retirement only to change his mind hours later. Which, isn't uncommon in a sport like this which takes such a mental toll on the athletes involved.
This time, he's being legitimate. And realistically, what else is there for McGregor to do in the fight game? He busted his ass to get to the UFC and was surrounded with hype because of his talk. He backed it up by fighting and conquering the entire Featherweight division. He then shot up two weight classes to have two legendary fights filled with history defining moments against Nate Diaz. He followed that up with a trip to Lightweight (his natural weight class in my opinion), and absolutely starched one of the best Lightweight's of all time to become the first ever "Champ Champ." And if that wasn't enough, he broke down a barrier and had a record breaking boxing fight with Floyd Mayweather. A boxing fight against arguably the Greatest Boxer ever, where he lasted 10 rounds and even won a few of them early on.
The longer Conor stays and fights, the more the legacy drops. And I'm not saying he'd fight and get worked because that's not the case when you're that talented. But what I am saying is, there's nothing left for him to do that would increase his legacy more than it already is. Continuing to fight would be very high risk and almost no reward (besides money). Conor has a thriving social media presence, a whiskey that is a selling better than anybody could have expected, and he'll have sponsorship and advertising deals for the rest of the days. Continuing to fight and potentially losing means the social media relevance dies down leading to the sponsors and advertisement deals moving on to more important clients, and most importantly… the whiskey selling less and less when the McGregor legacy becomes smaller and smaller.
With that said, I believe there are a few things that could bring him back to the fight game…
When Floyd Mayweather inevitably runs out of money and comes back around talking rematch with Conor under modified MMA rules. Floyd will want as much money as possible and no other matchup would generate the money that McGregor Mayweather 2 would.
A rematch with Khabib. This would get Conor out of bed on a Saturday night. The most infamous event in UFC history would conclude in a blow-off between the two in what would be the most watched PPV in UFC history. By a land slide in fact.
The third fight in the trilogy between himself and Nate Diaz. Nate hasn't been seen anywhere near the cage since his Decision loss to Conor in their second fight, a fight that many consider to be the best fight in UFC history. Nate Diaz clearly doesn't want any other fight unless it's on Red Panty Night. But, every night is Red Panty Night for Conor McGregor, so only pride would bring an interest to this fight.
But, the interest and passion in the game just doesn't seem to be there anymore. On his way to the cage against Khabib, the look in his eyes wasn't the same as it used to be. If that passion disappears, being inside a cage with highly trained assassins isn't the ideal place to be. Conor McGregor can retire on top of the MMA game with a thriving business, knowing that he was the biggest name that the sport had ever seen.